This is a review of some great beaches in the beautiful islands of Hawai'i, most of which I have enjoyed. Others included are those I have heard or read about, and plan to visit someday. Although this is not intended to be a comprehensive review of all the best beaches, I believe it covers a widespread view of both the more popular and the less visited of the best beaches Hawai'i offers.
The review for each beach is under the picture.
GREAT KAUA'I BEACHES
**
Ke'e -
Otherwise known as the "beach at the end of the road", this
classic north shore beach is a great place to watch the sunset over the ocean, near the NaPali cliffs. From here, the adventurous Kalalau Trail along the NaPali coast begins (this picture was taken from the trail looking down at the beach). Ke'e was made famous in the TV mini-series "The Thorn Birds". A large shallow off-shore area makes for easy swimming. Getting here is a pleasure - traveling to the furthest reach of roads on the lush north shore is a beautiful journey.
**
Hanakapi'ai -
Getting to this beautiful location is finishing the first 2-mile leg of the Kalalau Trail, on one of the most beautiful coastlines in the world. Though fairly tranquil in the summer, the waves can be ferocious in the winter. Swimming is not advised at anytime since the rip tides can be challenging. A warning sign is posted, showing the number of people who met an early demise in these waters. From here, one can continue on the trail up the Hanakapi'ai valley to the tall falls and pool of the same name. This is a popular 8-mile round trip day hike, moderately strenuous. Another option is to continue 9.5 miles further on the Kalalau Trail down the coastline to another fantastic setting with a tropical valley and beach.
**
Kalalau
- After a long and amazing 11.5 mile hike on the Kalalau Trail, this world class beach is a great reward. Other than being dropped off shore by a small boat and swimming in, hiking is the only way to get here (see my hike experience at
My Journey to Kalalau: Days 1-2
). Camp sites allow the adventurous to stay, enjoy and explore this beach and the close-by tropical Kalalau Valley. Summertime allows for swimming and body surfing and a broad stretch of sand, but waves are big and the sand in short supply during the winter. The beach enjoys one of the most beautiful and majestic seaside mountain cliff backdrops in the world. A waterfall from the cliffs provides a nice beach-side shower and water supply.
Honopu -
For the adventuresome (and only in summer), a fairly short swim past the Kalalau Beach, around a rocky cliff brings one into Honopu. It is acutally two beaches divided by a rocky outcropping, and tied together by an archway under the cliff. This beach has been declared to be "
the most beautiful beach in all the islands, maybe in all the Pacific
" - (
The Ultimate Kaua'i Guidebook, Doughty
). Getting here can only happen by swimming or being dropped off-shore by boat. Having such a place all to yourself, or nearly so, is an amazing feeling. My experience here was a life highlight (see
My Journey to Kalalau: Day 3
). A waterfall and small pool near the arch offer refreshment. A truly awesome place, usually seen only by helicopter or boat.
Haena -
Bali Hai, the famous, mystical and mythical island from the movie musical "South Pacific" was given life and inspiration from the beautiful jagged peaks seen from this gorgeous beach on Kaua'i's north shore, near the end of the road. Haena is a good beach for swimming and great for snorkeling and scuba diving at the adjacent area known as Tunnels. Easy to access and very satisfying to fill the objective of lounging on a tropical beach.
Lumahai
- Also made famous in the movie "South Pacific" where Nellie "washed that man right out of her hair". This beach has two sections - the furthest east end has a nice cove better for swimming. At high surf, this becomes two separated beaches - the rocks in between make for a nice place sit and enjoy the view and the waves.
**
Hanalei -
Named America's Best Beach in 2009 by Dr. Beach (*see "About Dr. Beach" below), Hanalei Bay actually has several beaches. The main beach is located adjacent to the small but
fun and eclectic town of Hanalei. The setting in the bay is one of the most beautiful on the North Shore. Swimming, fishing, surfing and boating are all well enjoyed on this bay. Much of the movie "South Pacific was filmed here. The valley behind the bay is a quintessential Hawaiian place, with the beauty of the river, the mountains and taro fields.
**
Kauapea -
Also known as "Secret Beach" this lovely stretch of golden sand is not nearly as visited as other north shore beaches, mostly because of access which requires a bit of a downhill hike. The remote location has a great setting with views of the Kilauea Lighthouse. I certainly didn't miss the lack of people while I sun-baked here, but did enjoy watching some cool boogie boarding by some skilled kids.
**
Moloa'a -
A bit off the beaten path, this pretty little quiet bay has a real nice beach in front of a row of vacation homes. The south end offers shade right to the water and a nice swimming area. I was only here briefly, but it has called me to return and maybe stay a week. It is a place of "ahhhh", ther, Moloa'ahhhh.
Poipu -
One of the more popular beaches on Kauai's south shore (it won the America's Best Beach award in 2001*) , the Poipu Beach Park is a great place to spend an afternoon, with a picnic and water fun. Breaker lava rocks off shore create two mini lagoons for shallow, mild waves and excellent swimming. This beach is next to several resorts, and has a great record of reliable sunshine.
GREAT O'AHU BEACHES
Waikiki -
Perhaps the most famous of all Hawaiian beaches, Waikiki has sent a call to voyagers for over a century to enjoy her sunny, golden sands and mild waves. Because this is considered tourism central in all the islands, you will see and be among a lot of tourists (of course, if you are here, you are one of them). Many big resorts front on this beach and enjoy the view of the Diamond Head dormant volcano. Though I personally try to steer clear from such crowds, an evening at an open-air bar or restaurant overlooking Waikiki Bay and Diamond Head in the moonlight can be magical. The west end of Waikiki beach, aka Duke Kahanamoku Beach, is wider and less crowded. This beach received the newest recognition as America's Best Beach in 2014.
Hanauma
- One of the best places for some easy snorkeling with lots of fish. Easy entry, shallow water, mild waves. It does get rather busy here, but going early can get you a nice bit of sand and little competition in the water. Located about 20 minutes outside Honolulu / Waikiki, the Hanauma Bay is a pretty setting in a former volcanic crater, with one side open to the ocean. Hanauma Bay was named America's Best Beach in 2004*. I always recommend this as a great beach activity, great for both beginning and more seasoned snorkelers.
Waimanalo -
A nice, long stretch of white sandy beach, away from the crowds. Just south of the more popular Kailua and Lanikai beaches, this beach offers peaceful sunbathing or strolling along the beautiful southeastern shore of O'ahu. Although the access is not as easy, the tranquility and beauty is worth it.
Kailua -
A beautiful stretch of white, sandy beach, Kailua is popular for water sports, especially kite surfing. Kailua was recognized as America's Best Beach in 1998*, and provides a great place for meeting the objectives for a nice Hawaiian beach vacation. Many vacation homes in the area front onto or have easy access to this beautiful beach. The waves are low and lake-like, making for great swimming. Some of my best relaxing and strolling in the sand and the sun have occurred here at Kailua.
Lanikai -
A sister beach to Kailua, just to the south, the name of Lanikai in the Hawaiian language means 'heavenly sea". Having pristine, soft white sand, and a view of the two Mokulua islands just off shore, it is difficult to find a prettier beach setting on the islands. Lanikai was recognized as America's Best Beach in 1996*, and is perhaps one of the most photographed.
Waimea -
One of best and most popular beaches on Oahu's North Shore, Waimea is the famed site of many surfing competitions in the winter season. Some of Hawaii's biggest waves come to this small bay. In summer, however, waves are much smaller and more swimmable. A popular cliff diving spot is found off a large rock outcropping at the western end of the beach, at which I've had a bit of fun. Behind the beach is the Waimea Valley which features a beautiful and interesting botanical garden and park, where the Waimea Falls are located.
Yokohama -
A Hawaiian beach with a Japanese name, this more remote beach is located near the northwestern most point of O'ahu. Because getting there takes more of a drive than most O'ahu beaches, and is not located near other major attractions, Yokohama
feels
remote. Just what I like. The setting, which sits against a green mountain range and cliffs, is both beautifully interesting and nicely un-populated.
GREAT MAUI BEACHES
Ka'anapali -
Some of the best resort options on Maui are found on this long stretch of golden sand, just north of the tourist town of Lahaina. Though not nearly as busy or populated as Waikiki, this is a popular beach. Ka'anapali was named America's Best Beach in 2003*. Near the north end is the Black Rock area from which cliff divers dive and near which is good swimming and snorkeling. The saying "Maui no ka oi" or Maui is the best, seems to take life in the enjoyment found in this area.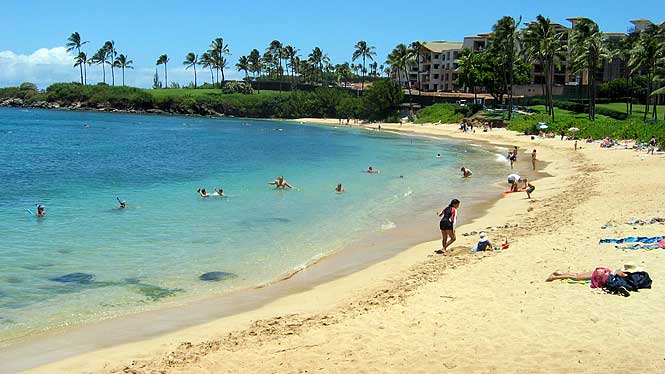 Kapalua and Fleming Beach Park -
These are actually two separate beaches in the Kapalua area of Northwest Maui, more remotely located than many of the other popular West Maui resort beaches. Both have a beautiful setting in small bays with great views of Molokai across the channel, and are the location of upscale resorts. Both beaches have been named America's Best Beach: Kapalua in 1991, and Fleming Beach Park in 2006*.
Wailea -
In front of some of the swankier resorts on the coast of South Maui, Wailea offers a great place for swimming, sunning and a beach stroll. This beach was named as America's Best beach in 1999*.
Makena -
Also known as "Big Beach" (and it's sister "Little Beach"), this broad and long beach is a favorite for beach-goers looking for reliable sunshine, located beyond the end of the resort areas in South Maui. It is one of Maui's largest beaches at 2/3 mile long, and enjoys great views of West Maui, and the island of Kaho'olawe across the channel. This beach has somehow eluded my visits to the islands, but it is beckoning me.
Ho'okipa
- Becoming known as a world class surfing and wind-sailing location for competitions, this beach and nearby viewpoints provide great scenery and entertainment for the less adventurous. The surf here is more for those with boards than for swimming. Located on Maui's north shore next to the Hana Highway, and makes a good first stop (or last on the return) on the journey of that road.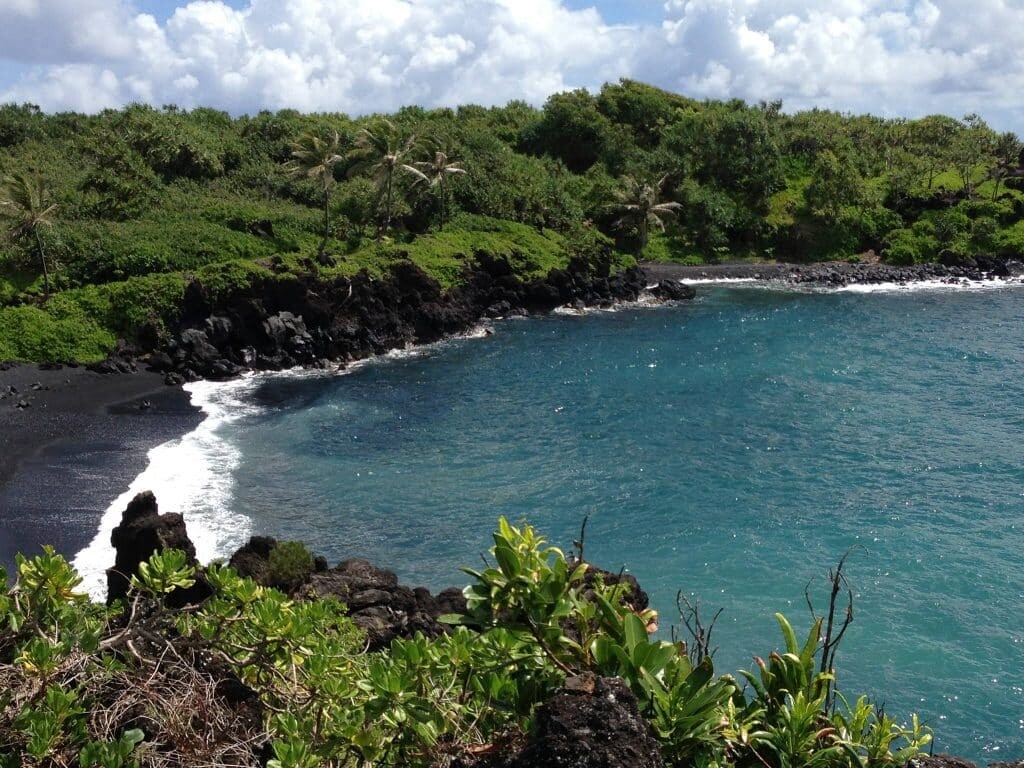 Waianapanapa -
One of the few black sand (pulverized lava rock) beaches on the islands, this beautiful bay and beach is a unique Hawaiian experience. Just getting here is a truly amazing journey and the beautiful, world-famous Road to Hana, boasting one of the most beautiful coastline drives in the world. Driving on the road itself, with 50-plus miles, many waterfalls and hundreds of winding turns, is one of the best journeys one can take. Adding to the beauty and wonder of the road are many great spots and natural wonders, with Waianapana Beach being a definite highlight. A nice coastline trail leads both north and south from the beach, affording many great views and beautiful locations.
Hamoa -
Recognized consistently on the list of as one of America's Best Beaches, Hamoa was declared to be "the most beautiful beach in the world" by Mark Twain when he visited the islands in the 1860s. Hamoa is a gem of a beach just south of the town of Hana. I really like being on this beach and in this area. Quintessentially Hawaiian. Not big in size, it is nonetheless very big in tropical beauty. Getting there via the Road to Hana makes this a nice ending to an amazing journey.
GREAT MOLOKA'I BEACHES
Papohaku
- This is a three mile expanse of golden, s
oft sand, and the beach is mostly un-populated. At about 100 hundred yards wide, this beach had enough extra sand to donate to the building up of Waikiki Beach many years ago, which can be seen across the channel on a clear day. Papohaku is a great place for a long stroll down the beach almost all to yourself. Swimming is good unless the surf is high.
GREAT LANA'I BEACHES
Hulopoe
- The pristine beauty of Hulopoe Bay earned it the title of America's Best Beach in 1997. Located on Lanai's southern coast, Hulopoe Bay is a stunning expanse of white sand. At the east side of Hulopoe Bay are tide pools that are well protected, keeping the waters calm for exploring. A great place for snorkeling as well. There are not near as many wonderful places on Lana'i as on other islands, but this beach ranks up with the best.
GREAT BIG ISLAND BEACHES
Hapuna
- This 1/2 mile long and almost 200 feet wide beach on the Big Island's northwestern Kohala coast was voted America's Best Beach in 1993*. Located in front of the Hapuna Beach Prince Hotel, it has easy access and great snorkeling at the south end.
Kauna'oa
- A crescent shaped beach in front of the Mauna Kea resort, the beach is also known as Mauna Kea. From here you can have a good view of the island's big Mauna Kea volcano. Swimming, snorkeling and boogie boarding are great here due to a natural reef that provides some protection from the surf. Located on the northwest coast of the Big Island, Kauna'oa was named America's Best Beach in 2000.*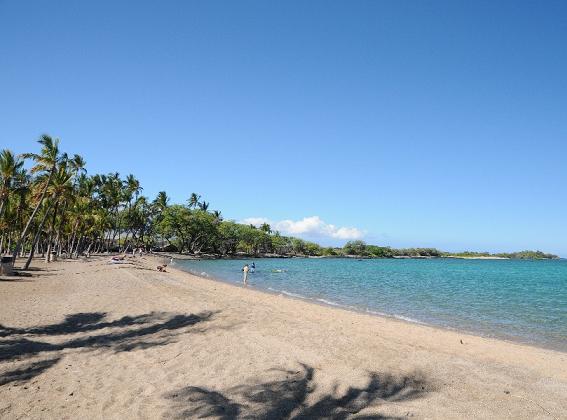 Waikoloa
- Also known as Aneho'omalu Bay, this small but pretty and less populated beach is located in front of the Outrigger Waikoloa resort in the south Kohala area of northwest Hawaii. The salt pepper sandy beach is great for swimming, diving and snorkeling, being protected by an offshore reef. A shoreline trail leads from here among lava, sand, coral and tidepools.



Punalu'u -
Probably the most famous black sand beach in Hawai'i, Punalu'u is located on the south shore, southwest of Hawai'i Volcanoes National Park. The jet black sandy shore is fringed by coconut palm trees, and sometimes visited by large honu, or green sea turtles. With lots of rocks, swimming isn't ideal, but just a stroll on this beach is unlike any other. Camping is also available in the beach park.
*About Dr. Beach:
Dr. Stephen Leatherman, known as America's foremost beach expert, is an American geoscientist, coastal ecologist and author. His annual ratings of the top 10 beaches in the United States receives much attention in the news media. Once a beach is awarded the top ranking, Leatherman retires it from any further consideration as a National Winner.
The list, which Leatherman has released each Memorial Day weekend since 1991, is based on 50 criteria. Some of the criteria include measuring currents and rip tides, water clarity, beach slope, sand grain size, holes or rocks on the beach surface, water quality and safety.
Since 1991, the following 14 Hawaiian beaches have been recognized with one of the annual America's Best Beach Awards, all of which are reviewed on this blog:
·
2015 - Waimanalo Beach, Oahu *
·
2
014 - Duke Kahanamoku Beach (West Waikiki), Oahu
·
2009 - Hanalei Bay, Kauai
·
2006 - Fleming Beach Park, Maui
·
2004 - Hanauma Bay, Oahu
·
2003 - Ka'anapali, Maui
·
2001 - Po'ipu Beach, Kauai
·
2000 - Kaunaoa Beach, Hawaii Island
·
1999 - Wailea Beach, Maui
·
1998 - Kailua Beach Park, Oahu
·
1997 - Hulopoe Beach, Lana'i
·
1996 - Lanikai Beach, Oahu
·
1993 - Hapuna Beach, Hawaii Island
·
1991 - Kapalua Bay Beach, Maui
* Updated on 6/29/15
** Photos by Ken R. Young